7-Day Victoria Falls Chobe Okavango Delta Safari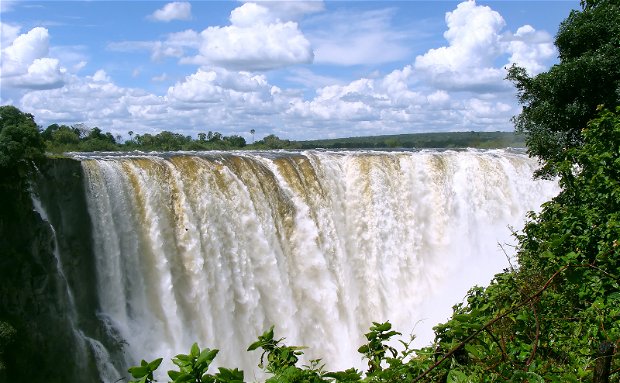 Gallery
Itinerary
Day 1 : Welcome To Victoria Falls
You will be picked up in an air-conditioned minivan from Victoria Falls Airport and drive for about 30 minutes to your hotel. You will relax at the lodge and rest a bit. You will be served lunch at the lodge. You will be picked up at 19:00 to go to the Boma Restaurant for your first experience called the Boma Dinner which is a delicious buffet dinner fused with an African drum show. 
After the dining experience, you will be dropped off at the lodge.
Main Destination: Victoria Falls Town (Victoria Falls, Zimbabwe)
Accommodation: Pioneers Victoria Falls
Meals: Lunch & Dinner (Breakfast not included)
Day 2 : Mosi Oa Tunya
After breakfast, you will be transferred to the falls to do a guided walking tour of Victoria Falls. An experienced local guide will take you through the 16 viewing points of the waterfall explaining every detail from the geology to the history of the waterfall. After the walking tour, you will be taken to the helipad for a helicopter flip over the majestic waterfall. You will then be taken for lunch at the famous Lookout Cafe Restaurant for lunch. 
In the afternoon you will have a luxury sunset cruise on the Zambezi River 2km above the falls which will be concluded with a 3-course dinner under the stars on the banks of the Zambezi. You will be taken to the hotel afterward.

Main Destination: Victoria Falls (Highlight, Zimbabwe)
Accommodation: Pioneers Victoria Falls
Meals: All meals included
Day 3-4 : Chobe National Park
You will be transferred to Chobe National Park in Botswana. A transfer vehicle from Muchenje Safari Lodge will collect you and take you to their beautiful property which is situated high up on the escarpment in the Western Chobe region. The drive will be approximately 2 hours.
Muchenje is well known for its dramatic and panoramic views across the Chobe River, which can be enjoyed throughout the main lodge and the cottages.
Activities include:
Game drives – Morning and afternoon within Western Chobe.
Chobe full-day experience – Including a boat trip!
You'll be able to enjoy the river safari and a full-day game drive in the park with a picnic to really maximize your stay and to see the diverse number of species and congregations along the river. Enjoy guided bush walks, night drives, community visits to Muchenje Village, mokoro trips on western waters, and more!

Main Destination: Chobe National Park (Botswana)
Accommodation: Muchenje Safari Lodge
https://wetu.com/iBrochure/en/Photos/23847_9815/muchenje_safari_lodge
Meals: All meals included
Day 5-6 : Okavango Delta
Today you will have a light aircraft flight from Kasane Airport to Setari in the iconic Okavango Delta, which is inhabited by a myriad of birdlife and wildlife unique to this exceptional ecosystem. Setari Camp's ethos and philosophy is simple, to be at one with nature in one of the most remote and beautiful places on Earth. They also aim to provide a first-class experience with superb guiding, great food, and a comfy bed with all the trimmings!
Setari Camp is Setswana for 'tree' and has been lovingly designed to integrate the giant riverine forest and palm trees that dominate the island. Winding walkways, high above the ground, interlink the tents, dining/sitting room, pool, and gym, creating a massive tree-house from which to marvel at the panoramic views over the crystal-clear channels and papyrus beds beyond.
Activities at Setari include Boat trips; mokoro rides; walking safaris; game drives; fishing and cultural visits to Jao Village.

Main Destination: Okavango Delta (Botswana)
Accommodation: Setari Camp
https://wetu.com/iBrochure/en/Photos/23847_154730/setari_camp
Meals : All meals included
Day 7 : Goodbye
Sadly, your final day has arrived and you will have an air transfer to Maun Airport to catch your connecting flights.
Main Destination: Maun Airport (Airport/Airstrip, Botswana)
Accommodation: No accommodation (End of tour)
Meals : Breakfast (Lunch & dinner not included)
Rates
Rates
USD 4099.00 per person
What's included?
Accommodation
Park Entry Fees
All Transportation
Professional Guides                                                                                                                                                  Domestic Flights
Meals
Exclusions
International Flights                                                                                                                                                Visas
Gratuities